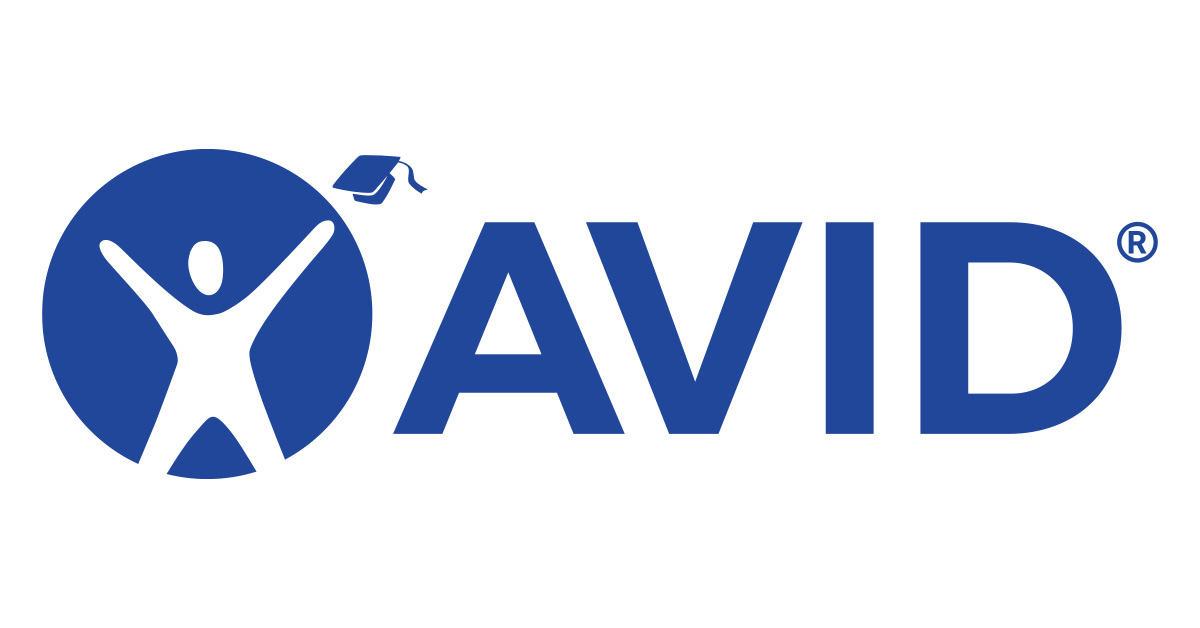 AVID's mission is to close the opportunity gap by preparing ALL students for college and career readiness and success in a global society.
Proven Achievement. Lifelong Advantage.
75% of AVID students are from a low socioeconomic status background, and 80% are underrepresented students. Nevertheless, they outperform their peers in crucial metrics nationwide. 94% of AVID students complete four-year college entrance requirements, 90% who apply are accepted into four-year colleges, and 85% persist into the second year of college. (www.avid.org)
AVID, Advancement Via Individual Determination, is a global nonprofit organization whose mission is to close the opportunity gap by preparing all students for college readiness and success in a global society. AVID is a college and career readiness system that helps motivated students achieve higher levels of rigor in advanced classes to better prepare them for college and career opportunities.
AVID was established more than 40 years ago with one teacher in one classroom. Today, AVID trains 85,000 educators each year, and it impacts more than 2 million students in over 7,500 schools. For additional information, visit the AVID site at www.avid.org or check out this AVID Facts page by clicking here.
AVID Eligibility
AVID methodologies (writing to learn, emphasis on inquiry, collaborative activities, organizational skills, and critical reading) are utilized in AVID, and we are moving to schoolwide strategies. AVID is an academic elective class that gives students who already possess the potential and a strong desire to succeed the resources, tools, and opportunities to successfully complete middle school and beyond.
Students eligible to enroll in the AVID Elective and higher level courses include students who exhibit the following:
Good attendance

Good citizenship

Determination to do well

Average to above average grades

Passing scores on standardized tests

Capability to succeed in academically rigorous courses with the support of AVID
AVID is NOT a remediation program, nor is it a study hall.
What do students do in AVID? In AVID, students learn strategies for becoming better readers, writers, problem solvers, and collaborators. They also learn how to improve study and organizational skills. Although AVID is a graded class, what students learn in AVID supports their learning in all other classes. Students also get to explore college and career opportunities through classroom activities, guest speakers, and one or two college field trips.
teaches skills and behaviors for academic success

provides a positive diverse peer group for students

gives students amazing opportunities including: college campus visits, professional internships, guest speakers and community mentors
What is Required of an AVID Student? Each AVID student carries a binder in which he or she is required to keep materials from all academic classes. Students keep track of assignments on assignment sheets and are required to take DAILY notes in all academic classes. The notebooks are graded weekly for content and organization by college tutors. Led by tutors, students participate in tutorial groups in the AVID classroom. In addition, students are taught study skills, test preparation, time management, and the writing process. Teachers fill out periodic progress reports, in addition to routine school ones, for monitoring by the AVID teacher.
What is an AVID Teacher, and What Do They Do? The AVID teacher is crucial to the process. The AVID class is where students learn organization, study skills, test preparation, time management, the writing process, take college field trips, explore careers, look at post secondary education choices, etc. Communication with the AVID teacher and parents is essential. The AVID teacher will contact you to share your student's progress and to check in about any of your concerns. Throughout the year, the AVID teacher will house several Family Workshops to address topics of concern relating to student success in middle school and preparation for high school and college.
Who are AVID Tutors, and What Do They Do? AVID tutors are college students who receive training in methodologies used in AVID: writing process, Socratic questioning, collaborative learning, and reading. They are in the classroom weekly to serve as models and to help students achieve success in rigorous classes. They are trained not to give students answers but rather to guide them toward answers. They may even ask permission to "shadow" students in their classes to help them learn how to take notes more effectively.